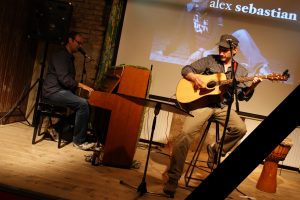 Es sollte durchaus schon mal vorkommen, dass The Rol und alex sebastian im akustischen Duo zu sehen waren, kurz: Rol-Ex.
Diese Gigs zeichneten sich dadurch aus, dass es sowohl The Rol, als auch alex sebastian Songs zu hören gab und der eine den anderen begleitete. Meist spontan und unvorbereitet, was die Sache besonders spannend machte.
Leider verstarb Roland Hannig, alias The Rol, viel zu früh am 12. Juli 2015.